One of my goals for this year is to get out of the house more often and do some more with the boys.
It's so easy to just say "I am going to do this" but to then just fall into the same routine of lazing at home, especially with no one checking up on you.
There are a few blog link ups which I think really encourage us to get on and do things. One being
Country Kids
by Coombe Mill and another I felt made me want to go out and make an effort was
My Week That Was,
hosted by Mummy, Daddy and Me Makes Three.
Katie said:
I have decided to do a new weekly thing on my blog to help me look back and remember 2012, even the little things that we don't normally document. Life is so busy and it would be nice to remember it- not just the nice days out, or the celebrations. After all this is what my blog is for- a journal of our life. They can be big things, little things or something completely tiny, but whatever they are things that made my week- whether happy, annoying, meaningful or pointless.
This year Katie, aka Mummy, Daddy and Me Makes Three is busy growing a baby and soon to be experiencing life with a 2 year old and a newborn. Understandably she has chosen to not continue with My Week That Was and with it being such a great idea for a link up I asked if I could host it instead, to which she said yes.
I'll run the link up the same way as Katie. The post will go live at some point on Sunday evening.
Posts don't have to just be written, if you are taking part in a 365 project and using that as a way to document your week then you can link that up too.
The linky will stay open for a week, you don't have to just link up on the Sunday, any day is fine.
This is the new badge, if you would like to add it to the bottom of your post just copy and past the link beside the badge.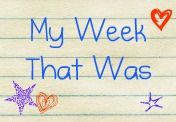 See you Sunday!