Ahhh the last week of the Easter holidays is now over. Charles has had three weeks off due to our holiday and I think he is ready to go back to school. He misses his friends and his keyworker.
Although I'm going to miss him when he goes back I am ready and determined to do more with Harry now.
Monday:
Although Harry was back to being himself again it was now mine and Charles' turn to be poorly. Thankfully it was just a 24 hour thing but it meant we were stuck in the house.
Tuesday:
I was feeling better today although Charles was on and off with a tummy upset. We went to Asda in the morning because Charles desperately needed some new tops. Despite there being a tiny section for boys, compared to the rows and rows available for girls, I was able to get him 6 tops and only spent £19!
I also treated myself to a new lipgloss.
In the evening I went to my second WI meeting, met up with
another local blogging friend
, and
made a bracelet.
Wednesday:
It was a really lovely day today so I went to Southwold with the boys in the morning. We only went so
I could go to Joules
to return some muck boots and I ended up getting new wellies and a new scarf. Because the boys were so well behaved I treated them to a cake at a new shop we saw in the high street.
My mother in law came over so once home we walked to meet her from the bus stop. She played with the boys in the afternoon which was so lovely to watch and listen to.
We got a Chinese for dinner.
Thursday:
My mother in law left in the morning so I dropped her at the bus station and then picked my mum up and went mattress shopping with her and then to Tesco.
The rest of the afternoon was spent at home.
Friday:
A relaxing day at home again and a treat of fish and chips for dinner.
Saturday:
I had a lay in until 10.30 today, which might sound lovely but after being up every hour with Harry in the night it was much needed. My husband worked today so my mum came over and we spent a lot of time in the garden. I cut back a lot of my plants and the garden looks a little tidier than before.
My husband cooked us steak for dinner.
Sunday:
After a slightly pants night with Harry again my husband let me have a lay in. I finally got up at 11.45.
The boys have been fed lots by the sounds of it and my husband has gone out to buy the remaining bricks and bags of soil he needs for his vegetable patch wall. I'm hoping he'll also be picking up the ingredients for Lasagne (if I've convinced him to make it tonight).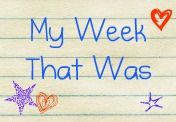 Sunday: